If you are coming to town for the game… Why not plan to eat what the ESPN Gameday crew eats?! The Tigers are on a roll so far this season – and it's not over yet! If you are planning a big tailgate for the next home game on October 22 against Syracuse, we can help you fill up your plate with some awesome fan-worthy grub.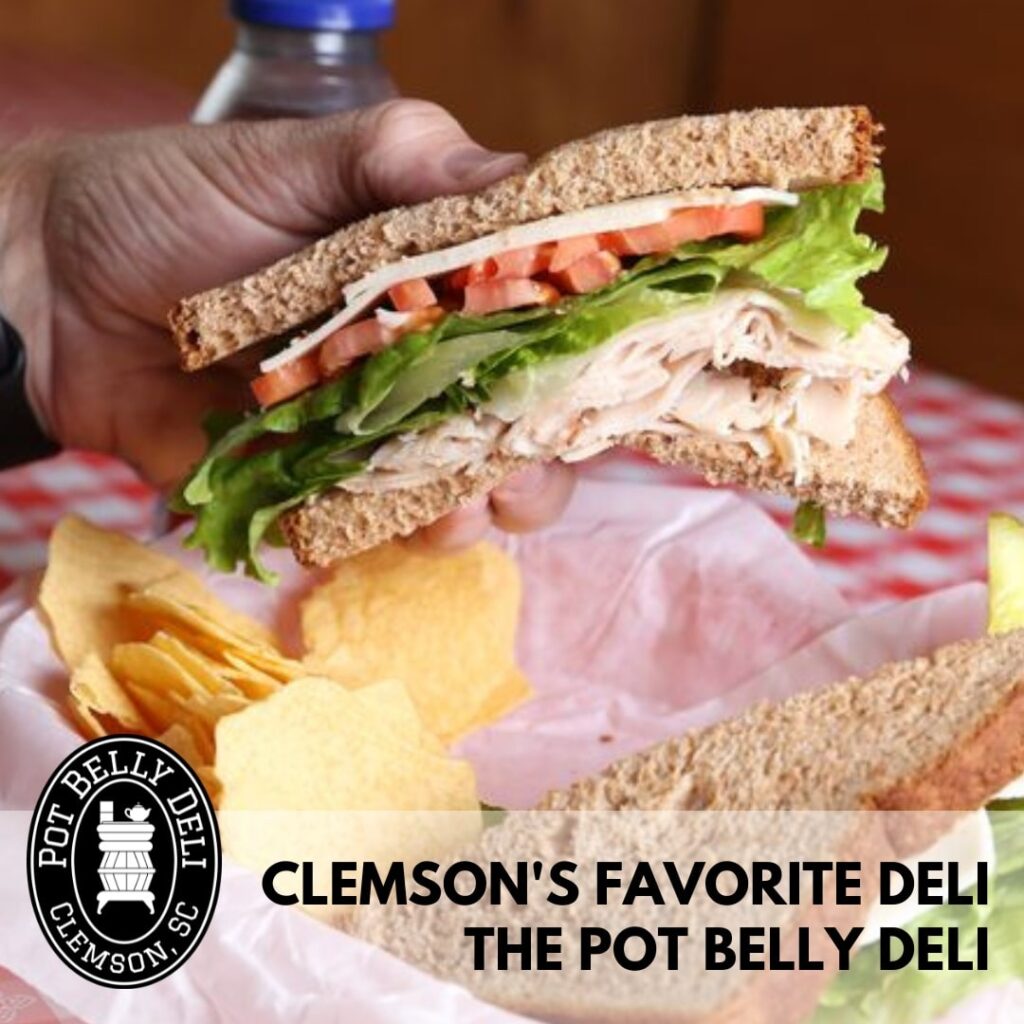 Serving Good Food Since 1994
Since 1994, The Pot Belly Deli has been Clemson's favorite deli. Breakfast, lunch, and tailgate trays are our specialties. The deli is located in the heart of Clemson, just a little over a mile from Memorial Stadium, so it's a perfect stop on the way to the game. We are proud to be a Clemson fan favorite, but we welcome away fans for some southern hospitality anytime! With 448 Google Reviews
CLICK to See Google Map: Pot Belly Deli, 109 Wall St, Clemson, SC 29631-1495
Serving Small and Large Groups
Whether you are hosting a small group of friends or a gigantic crowd of associates, Pot Belly Deli offers some amazing food options. Catering items like gigantic subs with freshly sliced deli meat, individually wrapped lunches, big pans of pasta, veggie and fruit trays, salads and cartons of chili. And don't forget to add in our jam-packed dessert tray! Or, for an early game, grab a tray full of breakfast treats and a bagel tray.
We also love hosting our fans for individual orders on the days of the games, so check out our breakfast, lunch and coffee menus. And, in addition to the regular menus, we offer daily specials! Check out our Facebook page to see what's on the board each day.
And yes, you read it right! ESPN GameDay Show always orders from the Pot Belly Deli when they come into town! And, if you order a College Game Day Special Online at thepotbellydeli.com, you get a free sticker with your purchase.
When you're visiting Clemson, plan to pop on by, we would love to see your face at the Pot Belly Deli.
Check Out Our Reviews!
See all the Pot Belly Deli Reviews on Google.